As the population ages, active aging is a concept that has become increasingly important. The Word Health Organization defines active aging as the process of optimizing opportunities for health, participation, and security to enhance the quality of life for older adults.
One way to support active aging is by designing communities that tailor to the needs of older adults. But how do you do this? It usually starts with a conceptual design, and with the help of industry experts, you can bring your vision to life.
Designing an Active Aging Community
Community and neighborhood design can influence active aging. Things like shopping, services, places to walk and meet others, and an overall sense of atmosphere, including gardens, are characteristics to consider when designing an active aging community.
The design of an active aging community should reflect the behavioral decisions older adults make based on their mobility, participation opportunities, and how meaningful activities align with their goals and preferences. Let's look at some components of active aging community design.
Designing for Mobility
One of the considerations in designing an active aging community is mobility. Mobility in older adults can become restricted due to physical limitations or health issues.
It's necessary to design a community with environmental attributes that can affect physical activity and mobility in mind, making it accessible and accommodating to individuals with different mobility levels.
Designing for mobility can include overall building layout and assistive room features, such as:
Ramps
Elevators
Wide doorways
Hallways
Handrails
Daylighting
Window views
Transitional areas
Indoor and outdoor connections
Additionally, the community can promote walking and other physical activity in older adults with infrastructural features such as:
Walking footpaths or trails
Sidewalks
Greenspaces, like nature or parks
High street connectivity
Designing for Socialization & Community
Socialization becomes increasingly vital for maintaining mental and emotional well-being as you age. Designing a community that encourages socialization is crucial.
Designing for socialization can include environments with communal spaces, like community centers, clubhouses, and gathering areas. These spaces help to facilitate interaction between residents, whether through organized activities or informal gatherings.
The community may offer opportunities for residents to engage with the surrounding neighborhood environment. These may include religious spaces, food retailers or restaurants, and recreational or senior centers.
Purposeful planning and design can reflect the balance between privacy, connection, and access to foster social support and positive social networks and avoid social isolation, risk, and social inequity. These might include proximity to community amenities, partnering with local businesses or community organizations, public transportation access, and engaging with older adults to ensure the design meets their goals and preferences.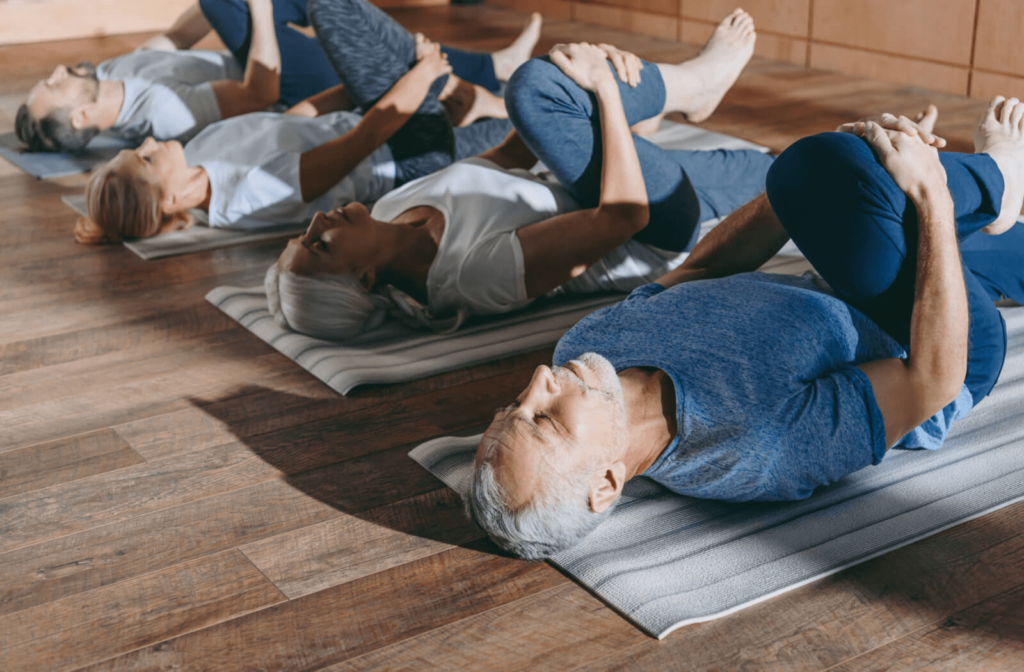 Health & Wellness
Health and wellness are also key considerations in designing an active aging community, especially since there are different types of senior living communities. The community design should provide opportunities for residents to engage in physical activity, such as fitness or group exercise programs or therapy.
The community design should factor in changes to the health needs of residents and provide access to healthcare services for complex healthcare needs, such as 24-hour assistance in memory care or regular check-ups and preventative care in independent and assisted living communities.
Technology
As technology continues to advance, implementing technology in active aging communities can help support and promote:
Interactions and socialization among residents
Independence
Participation in meaningful activities
For example, community design could include remote communication tools and smart monitoring solutions to help older adults manage daily tasks and facilitate independent living.
Technology can also help residents access information about community events and activities. However, technology solutions must be accessible and easily usable for older adults, or it may present more challenges than benefits.
Achieve Success with Distinctive Development
Designing an active aging community requires careful consideration of a wide range of factors, including mobility, socialization, health and wellness, technology, and the surrounding neighborhood. By incorporating these considerations into the design process, it's possible to create a community that supports older adults' well-being and quality of life.
Whether you're a community developer, new to development, or a community planner, navigating and designing an active aging community requires more than just creativity, empathy, and commitment. Connect with Distinctive Development to get the expertise you need to bring your active aging community to life.